Workshops
Yoga for Burn Out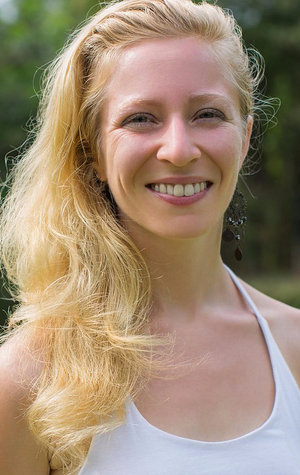 les wordt gegeven door
Deniz Aydoslu
In our fast paced society where goals precede over needs, burn-outs seem to be inevitable unless we learn to take care of ourselves. In this workshop we explore burn-out from a Yoga Therapy perspective. You'll learn tools to help you recover from burn-out, to restore your reserves and build your energy again, as well as learn practices to prevent you from burning out in the future.

The workshop is geared towards people who suffer from burn-out, lack of vitality, weakness or fatigue. We cover theory, exercises, and yoga practice.

De workshop wordt in het Engels gegeven, maar Deniz begrijpt Nederlands, dus je kunt vragen altijd in het Nederlands stellen.

Denis Aydoslu is an internationally experienced yoga teacher and therapeutic yoga consultant. She began practicing yoga at the age of 16 after she discovered the profound effects of long-held stretches as a gymnast. After receiving her master's degree in criminology and years of daily yoga practice, she decided to become a yoga teacher. She gained her first years of teaching experience in the UK after which she embarked on a spiritual quest that took her first to India and then for 5 years to Thailand. During this time, her desire for spiritual growth lead her to study different styles of yoga and take part in lengthy silent meditation retreats in the presence of great teachers. In 2014 she translated her calling into a therapeutic specialty. She studied yoga therapy with Dr. Mihaiela Pentiuc and published her first book on yoga therapy for depression in 2015. Deniz' calling is to help people heal their hearts to let in the light of the universe.

Take a look at her website: www.therapiesforevolution.com